Musical cast working hard to prepare for 'Seussical'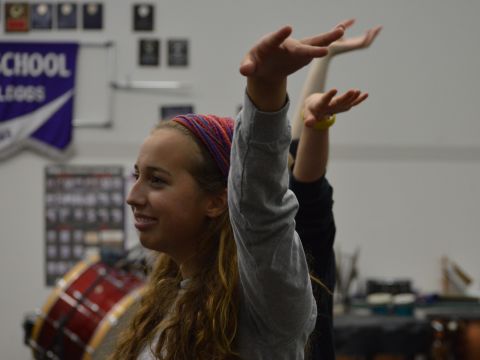 Musical participants have started rehearsals to prepare for the fall musical, "Seussical". This musical brings together all kinds of different characters from your favorite Dr. Seuss books. Such as Cat in the Hat, Horton the Elephant and Gertrude McFuzz.
"It is really whimsical and creative." Choir teacher, Erin Buffum, who is directing the musical, said. "There isn't a lot of reality in it. you have to use your imagination."
The story is that Horton hears a who on a speck of a dust and tries to convince the other animals that Whoville exists. The choice of the musical this year is more modern than the musicals we have done in previous years. According to Seuss wikia, it debuted on Broadway in 2000.  
"I was looking for something that was really family-friendly," Buffum said. "So I think this will bring a lot of kids to the show."
Many students that are in "Seussical" this year have been in it before, when The Baldwin Community Theatre did it in 2010. Senior Drew Villaca, who plays Horton, was in it in 2010, as well.
"I was familiar with the musical beforehand from having done it before, and I remembered how cool of a part Horton was and how integral to the show he was," Villaca said. "I actually played Yurtle the Turtle in our community production of Seussical back in 2010."
The students started rehearsals in the middle of August to prepare for the performances on November. Buffum expects opening night to be a success.
"Lots of excitement and lots of nerves and hopefully a lot of families in the audience," Buffum said.
Students who are not participating in Seussical are excited to go and see the musical, such as freshmen Becky Fritzsche.
"I am excited to see the musical because it is cool to see people you know,"  Fritzsche said.
The students will be performing "Seussical" at 7 PM on Nov.18-19 in the PAC!