New coach leading dance team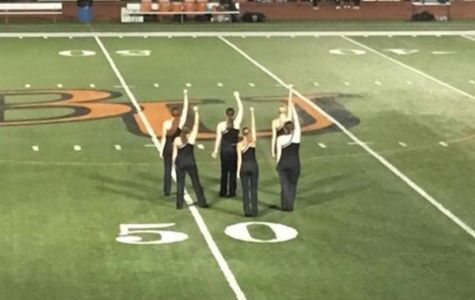 Hang on for a minute...we're trying to find some more stories you might like.
This years BHS dance team's new coach Kym Garcia had a late start to the season after finally getting a team together in September.
"I'm use to having the whole summer to practice," Garcia said, "I didn't have a team until September.''
Grace Cooper, second year dancer for BHS, is looking forward to another great year on the team, despite the short amount of time they've had to prepare.
"I feel like we missed out on time to prepare, so we've had to work very hard during the time we've had. I'm really proud of how far we've come in such a short amount of time," Cooper.
Sophomore Megan Jardon, is excited to see how the team progresses through the year.
"I think we will show them that dancing is fun and exciting and something they might want to be a part of," Jardon said.
A challenge that is being faced this year is lack of student interest. With the late start for the season the dance team didn't get a lot of advertisement so not a lot of kids new to tryout.
"I don't think the number of dancers on the team will matter as long as everyone works hard," Garcia said.
Garcia has had 26 years of dancing experience. She started ballet at the age of three. Though she was never on a actual high school dance team she did spend 15-20 hours a week at studio dance outside of school. She went to college on a scholarship and was on a national team. She has been coaching high school dance teams for five years.