MARCH: Marten combines fun with learning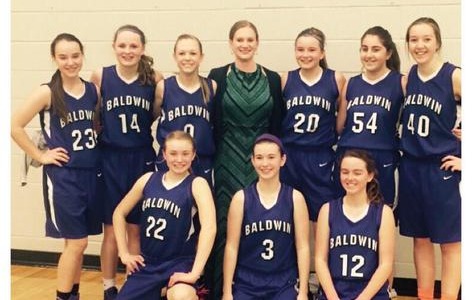 Spanish teacher Katie Marten was elected Teacher of the Month by the BHS Student Advisory Team.
Señorita Marten has been teaching at BHS for six years. Marten teaches all levels of spanish including Spanish I, II, III, IV. She sponsors all spanish trips that have included Costa Rica, Panama, and is in the middle of planning a trip in the spring of 2016. Marten has been a Link sponsor for two years. Marten also has been the freshman basketball coach for the last six years and this last volleyball season was her first year being the freshman coach.
Students get more than just Spanish from Marten.
"She is great at being associated with her students as much as possible, and teaches them more than just Spanish." sophomore Noah Buckley said.
The admissions board is appreciative of all that Marten does for BHS.
"She brings expertise, she connects well with students, and with all her extra activities, basketball, volleyball, and link." Principle McKim said. "Her positive connects with students allow them to excel at what they do."
Why did you become a teacher?
"I became a teacher for a lot of reasons, mainly to connect with students and help them broaden their horizons."
Why do you think students should learn Spanish?
"More reasons that I can list here, for sure. How about this? Can you think of of a legitimate reason students shouldn't learn Spanish?"
What is your favorite memory as a teacher here at BHS?
"Too many to narrow down to just one."
What is one of your favorite childhood memory?
"I really loved going to Lake City, Colo. with my grandparents every summer growing up. My grandpa would take me hiking, fishing and 4-wheeling. My grandma would (attempt) to teach me how to cook and sew. Then every night we'd all play different games with the rest of the retirees at the RV park."
How do you feel about being teacher of the month?