New PE teacher was former collegiate standout runner at FHSU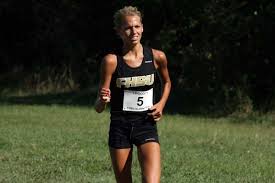 Gentry Linscott is a new teacher to BHS this year. Linscott is coaching the BJHS long distance runners for this spring season. Linscott has been running for as long as she can remember and went to college for running.
Where did you run and and what events did you run?
"I ran at Fort Hays State and ran the 10,000 meter and 5,000 meter races."
Did you ever win any big competitions?
"I placed in both the 5k and 10k at the MIAA conference, and I was MIAA Athlete of the Week after winning the Emporia cross country meet."
How long have you been running?
"I've been running since 5th or 6th grade."
What do you love the most about running?
"I grew up running on my dirt roads. Running is relaxing and a stress reliever for me. I also like it because nobody else can control your results, I am pretty self-motivated and really like to push myself to see results."
Who were your coaches?
"In high school my coach was Nate Smith, he's a great guy and I still keep in contact with him. He influenced me so much in my running career. Jason McCullough was my college coach. He was my neighbor when I was growing up, he lived half a mile down the road. I remember him telling me when I was younger that I was going to come run for him at FHSU, I never actually thought I would. Coach McCullough influenced me, I always saw him running down the road. During my Freshman year of college they had their second child, she was diagnosed with Trisomy 13. His family hired me once a week to watch her and that really showed me how hard he worked. He hardly slept yet he was still a great coach and winning his own marathons."
What was your favorite event to run?
"My favorite was definitely the 5,000 meter race."
What is your favorite part of coaching the BJHS long distance runners?
"My favorite part of coaching is coaching kids that are eager to get better. I coach a great group of distance kids. I run with them every practice and I truly love that. I love cheering them on during their races and getting so excited when they beat their time."