Winter sports team begin seasons with covid restrictions in place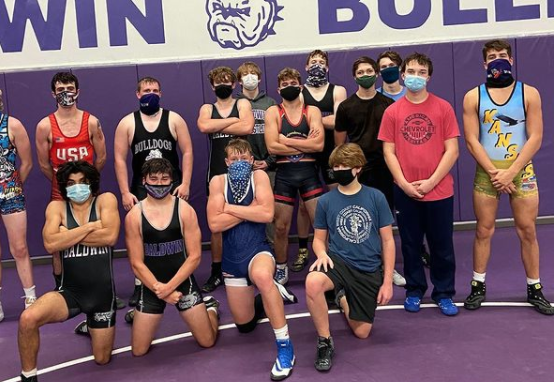 As the crazy 2020-21 school year moves on, BHS student-athletes are getting nervous about whether or not they are going to have a season this winter. Coaches are pushing for a good season while trying to avoid as exposure and risks as much as possible.
"Personally, I'm not a fan of the restrictions," senior wrestler Josh Broyles said. "Wearing masks while wrestling is impossible and I definitely feel like it's not even going to feel like a wrestling season."
Moving into their first practices of the year, some students are upset about the masks and restrictions, but all are trying to make the most of it.
"All we have to do is wear a mask, and I don't like it but it's what I have to do in order to play," junior basketball player Cole Mahaffey said. "I don't like the masks and I don't like the restrictions."
Both students and coaches are required to wear a mask and follow the rules of Douglas County if they want to stay consistent as a team.
"Girls Wrestling is probably going to get cut short just because of how much contact there is," sophomore wrestler Willow Dubois said.
With the percentage of Covid-19 cases on the verge of 15%, winter sports will continue on in the current state, knowing that shutdowns are possible.