Ogle taking game to NCAA Div. 1 level at West Virginia
Former BHS girls basketball star Abby Ogle is taking her game to the next level, as she has signed to play at West Virginia University at the NCAA Division 1 level and the Big 12 conference. Ogle helped the Bulldogs win the 2018 state championship and then had a successful two years at Hutchinson Community College.
Ogle has had a lot to be proud of in her career, but recalls her memories at BHS as some of her favorites.
"I think some of my biggest accomplishments in basketball were winning state as a senior and becoming Player of the Year," said Ogle, who also became the Jayhawk West Player of the Year while at Hutch.
During her junior college career in Hutchinson, Ogle found her desire to continue at West Virginia. Although leaving her college teammates was hard.
"It was hard leaving Hutch because we all had to say our goodbyes very quickly due to the virus," Ogle said. "I made a lot of very close friends and it was very hard to leave."
Ogle averaged a total of 13.6 points per game while having 4.9 steals per game during her high school career. She made a big impact for the future of Baldwin girls basketball.
"She has the best instincts for the game of basketball of any player I have ever coached," BHS head coach Bob Martin said. "You have to give her all the credit for doing what it took to get her in the position to play for West Virginia."
Ogle helped her team achieve 84 wins during her career at BHS. While Ogle was a Bulldog, the girls had a long stretch of achievements at state to take home to Baldwin.
"She made everyone around her better and was a great teammate," BHS assistant coach Eric Toot said. "In my opinion, Abby is the best player we have ever had at Baldwin High School."
"Abby has worked hard to achieve her goal of playing basketball at the Division 1 level," BHS Activities Director Gary Stevanus said. "I am very proud of her and am excited to see what she can do at that level."
Ogle began her passion of playing basketball when she was six years old. 
"Ever since I was little and figured out you could play basketball college I knew that's what I wanted to do," Ogle explained. "As I started getting older I knew I wanted to play with and against the best."
It is believed that Ogle is only the second ever BHS girls basketball player to have the opportunity to play at the NCAA Division I level. It is believed a BHS alum played at KU in the 1980s.
About the Writer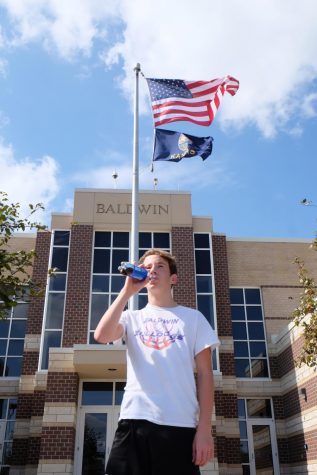 Ian McCoy, Online Editor
SOPHOMORE, ONLINE EDITOR

What are your future plans? Going to try to go to college for social media management and be a producer
What do you put...