Katzer brothers following football passion, pursuing medical school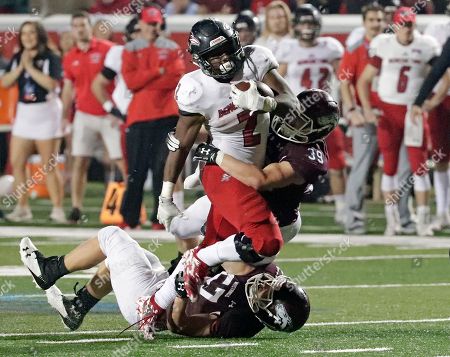 The Katzer brothers have been playing football since they were 11 years old. Jake and Joel started off as a part of the Baldwin youth football program and played all the way up to their graduation in 2016.  Now, both boys are in their final year at Morningside College, located in Sioux City, Iowa.
"We didn't plan on going to school together, but we both liked the Morningside football program and the school gave us both the best academic scholarship of any school to which we applied," Joel said.
On the football field, both have been team leaders on the defensive side of the ball. They have been their team's top tacklers and each have earned numerous honors for their achievements on the gridiron. Their team won the NAIA national title last year, and haven't lost since, as they are still ranked #1 this season, as well. Their team has become the NAIA powerhouse, and the Katzers are a key part of their team.
But it isn't just their hard work on the field that drives them. Jake and Joel both have dreams of medical school in the near future.
"My plans after I graduate from Morningside are to attend medical school (hopefully somewhere in the Midwest)," Jake said. "After that, I plan on practicing primary care in a small town like Baldwin."
"Once I graduate college I plan to attend one of the medical schools I am applying to," Joel said. "It will most likely be the University of Kansas, University of Nebraska Medical School, or the University of Iowa. My dream job post medical school is to practice medicine in a small, rural community."
The twins have put in years of dedication and practice into football, but also their academic and personal lives.
"There is always a struggle to balance school, football, and time with friends. Football in college is very time demanding. During the season, it is close to a 40-hour a week commitment," Jake said. "When class and homework are added on top of that, it is sometimes very hard to get everything done that I need to. I've learned that to stay on top of things, the key is to prioritize and avoid procrastination."
The Katzer's twin have both credited their time here at Baldwin for their work ethic and success, and people have started to notice.
"On multiple occasions, I have had professors or coaches comment that I came into college well prepared," Jake said. "And, I owe all of my preparation to the staff at BHS. I also think that our academic and athletic preparation had an equal impact."
"Coach Berg, Hall, Harris, Musselman and Inzer taught me the work ethic and foundational skills that have allowed me to succeed at the collegiate level," Joel said. "But, the education I received at Baldwin was just as outstanding. The teachers were willing to go above and beyond to make sure I understood what was being taught and could apply it."
Coaches at Baldwin recall coaching the Katzer brothers. At BHS, they were members of the football, wrestling, and track & field teams. They earned numerous football honors, and also were state placer wrestlers, helping the team to win the 4A state title in 2015.
"Joel and Jake are a coach's dream," former BHS football coach Mike Berg said. "It didn't matter what I asked of them they always achieved it through hard work and dedication. No goal is too big for these guys to conquer. These two have always achieved everything they have set their minds too. They have worked so hard to put themselves in a position to learn from the best medical schools in the nation."