Doubles teams headed to State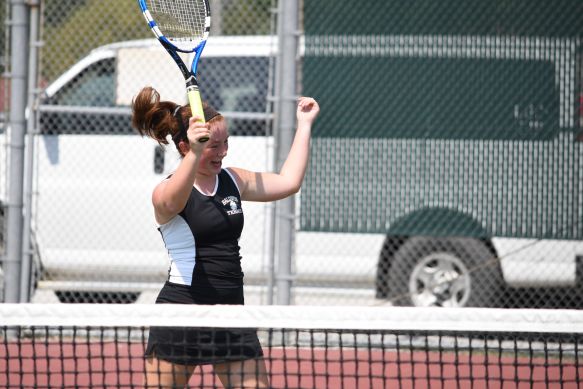 Hang on for a minute...we're trying to find some more stories you might like.
Preparing all season for this moment, both Baldwin High School doubles teams won their way to 4A state last Friday, Oct. 6. Beating the #1 seed at the regional tournament, the doubles teams have won a huge victory for the BHS team. The doubles teams consisted of Makena Martinez, Chiara Moretti, McKinley Markley, and Celeste Wallis.
Played in the Kossover Tennis Complex located in Topeka, teams from all across the northeastern region of Kansas came to compete for a spot at the state tournament on Oct. 13, and Baldwin doubles teams will be representing our region among some of the best high school athletes in the state.
"Our first match was against Topeka-Hayden, it was not too challenging, but it did make us work a bit," Martinez said. "We won both sets with game scores of 6-4 and 6-1. Chiara and I really enjoy playing together and we work well with each other, because we both are able to keep positive attitudes, and are really good at communicating on the courts. This showed in our victory against Topeka-Hayden in our first match."
In their second match they played the first seed team participating in the tournament, Marysville. Winning the match, they went into a tie breaker in the first set, and came out with the victory in the second match with a final set score of 6-3. Together the doubles team, consisting of Martinez and Chiara Moretti have worked hard to earn their place at state.
"It was super challenging and very tiring," Moretti said. "We are super happy we have the opportunity to compete at state, especially as a foreign exchange student from Italy. We are looking forward most to just being able to play our hardest and compete our best in the state tournament later this month."
Encouraging each other along the way, they have been preparing hard all week through the cold and rain in order to be able to take this victory home with them. Coming out first in the tournament, the final game score for the doubles team was 2-0, making them the first team to make it to state in two years.
Also striving for greatness at practice each and every day, the number one double team for Baldwin, consisting of Markley and Wallis, are state bound as well. Through a final victory against Bonner Springs, they are excited to be competing at state as well.
"McKinley and Celeste stayed steady and played their game of strong groundstrokes and put a lot of pressure on the Bonner Springs team to win," Varsity coach Jamie Inzer said. "If both teams go to state playing like they did today, they will definitely come home with some wins at state. We are excited and can not wait to see what happens."
Focused on preparing hard the next couple of weeks, the varsity doubles teams are hoping to take home the gold at the state tournament on Oct. 13 for the BHS tennis team.