Boys soccer team prepares for season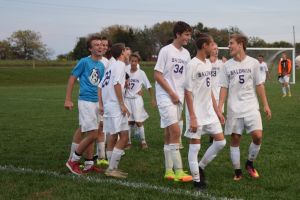 Hang on for a minute...we're trying to find some more stories you might like.
The boys soccer team has been working hard preparing for the start of the soccer season for the past couple weeks. Senior and Co-captain Cameron Elphick is confident with this year's team.
"I'm absolutely confident," Elphick said. "We look like we are in good standing for our first game. We've really been working hard on working as a team out on the pitch…I guarantee we will bring home that regional plaque, and who knows maybe even a state title."
Numbers for those participating in soccer have gone up, causing some excitement in the team.
"I'm excited for a great season we have planned," Elphick said. "Our numbers are way up compared to previous years. So really I'm excited for a great season with a big family."
The soccer team haven't just been preparing for their season with practice, but also participated in summer activities like scrimmages, which have helped build the team's confidence even more.
"De Soto has always been a huge challenge for us," Elphick said. "We played them in some summer scrimmages and they were great then, but since then we have gained confidence as a team and each other."
Though there has been much excitement, there is still the difficulty of transitioning into the school year and learning how to manage activities.
"It can be hard to balance everything because it is the beginning of the year," junior Will Evans said. "So if it were later in the year maybe it wouldn't be but because it's the beginning of the year and you have to transition into a sport and starting your school week it is a lot but it pays off."
The first soccer game is at 4:30 p.m. on Aug. 25 at Tonganoxie. Following the varsity game will be junior varsity at 6 p.m.