JV tennis has a perfect 14-0 day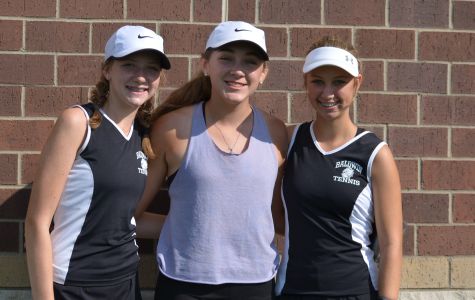 Hang on for a minute...we're trying to find some more stories you might like.
Sept. 26 the JV tennis team traveled to Spring Hill take on the Broncos. They have been preparing to take on the Broncos since their last match up with them on the Sept. 15.
"Other than the typical shoes and racket we are always asked to be prepared with," freshman Mayia Evans said, "we also set ourselves up mentally with the thought of, how we're going to communicate, looking at the opponents and finding out about their serves and hits and trying to see how we can use it to our advantage."
They reached Spring Hill for the second time and were ready to take on the Broncos once more. Some had nerves going into the day and others were just ready to take on the challenge.
"I don't really get nervous," freshman Alyssa Beilfuss said. "I turn my nerves or frustration into determination to be better, my partner Mayia helps a lot with keeping our morale upbeat."
After a long day of competition the Bulldogs were anxious to find out how they ended the day. Just after what seemed like a longest wait of a lifetime they found out as a whole they went 14-0 on the day against Spring Hill.
"When I found out we went 14-0 I was pretty happy and proud because we played a singles and doubles match," freshman Lindsey Toot said.
The team has worked hard for a solid day like this for a long time and after putting in all the work they have gotten what they have worked for.
"Our plan was to go out there and have fun since it was some of the last matches of the year," Toot said. "And that's what we did."