Pink Out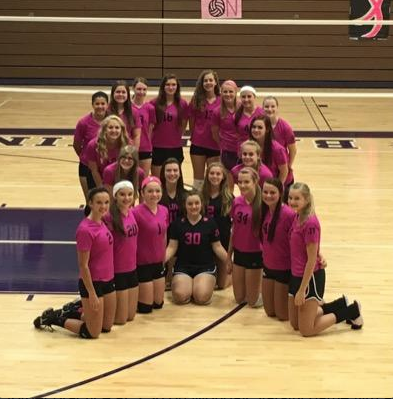 Hang on for a minute...we're trying to find some more stories you might like.
The 2016 Pink Out volleyball hosted by Stand Up To Cancer is just around the corner. As the volleyball team makes preparations, so does the Stand Up To Cancer club.
"You can easily get involved by coming to meetings, and doing the fundraiser for the club." Sponsor Debbie Baldwin said.
At this year's game there will be a bake sale, a sweepstakes, serving for cancer, and lots of volleyball.
Pink Out is always a lot of fun. All the fans that come out to support make it even more fun as well as the cause we're playing for," Sophomore, Varsity volleyball player, Sydney Bergan said.
There is no set time and date yet but, it is most likely to happen in September.
"It might be a little different this year because old head volleyball coach, Jill Brown, was a lot of help," Baldwin said.
This year the game has much personal meaning to a lot of people. Many members of the Baldwin City community have been affected by breast cancer. The club has helped many families affected by this by donating money, and giving them front row seats for the game.
The new head coach Jill, will get involved by, readying her volleyball players to play hard for a good cause.
"I don't think our new coach will have any effect on the goings on other than how we play the game," Bergan said.