School traditions, keeping spirit alive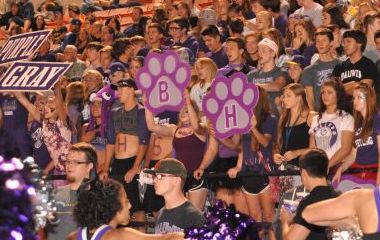 Baldwin City is a town full of many things known city wide. The Maple Leaf Festival, city wide garage sale, etc. There are also school traditions known by every class. These traditions have been going on for many years.
Many have their own opinions on the different traditions, some people like more traditions than others.
"My favorite is powderpuff, it's a fun way for the girls to get involved in football and learn more about it," sophomore Maci Malec said.
Not all traditions are sporting events, but most of them are.
"I love to participate in as many as I can, I've dressed up during the spirit weeks and for the student section at games, I go to the-bash every year, and during freshman year when I played volleyball I participated in the dig pink game." Malec said.
Many clubs are sports run these traditions, FBLA for example runs the Halloween dance, Stand Up to Cancer along volleyball team puts on Dig Pink, etc.
"When I was a freshman I played in the dig pink game for volleyball," Malec said.
Many of the teachers have been in Baldwin their entire lives so they know very well about the traditions that happen here at BHS.
"My favorite part of having these traditions is that they help with the school pride, the enthusiasm for being a BHS student, they're fun so anything that makes the school a more fun environment is a positive," teacher Kit Harris said.
Many people participate in these traditions and enjoy the fun days that they bring.
"I think these traditions should keep going. It makes Baldwin unique in its own way and makes school more fun to go to when the traditions are taking place." sophomore Codi Thompson said.