WHERE ARE THEY NOW? Morgan "dives deep" into Marine Science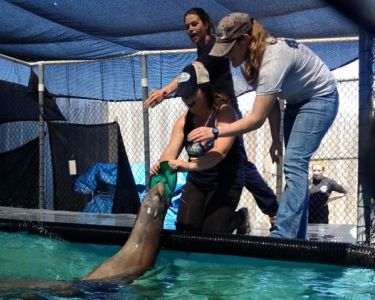 From the heart of the country to the depths of the ocean, Brooke Morgan could not be farther from home. Morgan had a passion for marine wildlife, and, after graduation, pursued that into college. Now in her fourth year, Morgan is studying marine science and minoring in visual/public arts at California State University, Monterey Bay.
Q. What inspired you to study marine biology?
As a little girl, my family and I would travel a lot. My grandfather loved venturing to the tropical areas and so I was constantly exposed to the wonders of the sea. I fell in love with the vibrant colors and life found beneath the waters at a very early age. On top of this, I learned to swim before I could walk. Although I lived landlocked growing up, my house was filled with aquariums, home to tropical fish from all over the world.
As far as what made me decide to STUDY marine science, I went to Ixtapa, Mexico the summer going into sophomore year. We went snorkeling off an island near Ixtapa and was awestruck with the beauty of the underwater reef community. There were fish hustling around and small invertebrates weaving in and out of the crevasses. I remember just floating and watching the rush of colors. Well, two years later, my family decided to revisit this spot. Expecting the lively reef to fill me with wonder again, I was sadly surprised to find just the opposite. The lively reef was completely dead; no fish, no inverts, nothing but grey, barren seafloor. The 2010 oil spill hit the reef system and wiped everything out within the year. I remember feeling burdened by this. It wasn't just a sadness, I was angry and frustrated and left that trip with this understanding that I needed to take action in order to combat man's footprint on ecological systems (specifically, the reefs). So, I decided to pursue marine science.
Q. What are your most interesting classes?
At Cal State University – Monterey Bay (CSUMB) I have had the privilege to take a number of courses that have expanded my understanding of marine life and prepared me for my field of study.
I have taken classes like oceans & atmosphere that focus on the environmental interaction, geology/hydrology that involved me partaking in on-going river surveys; biology courses that have involved me doing dune transects for another on-going study that looks at invasive species and restoration; Molecular, Cell Biology, Animal Physiology courses that have taken me from looking at tiny organisms under the scope to dissecting large fishes in the area; GIS & GPS courses that have taught me and certified me in GPS and seafloor mapping skills; courses like ecology that take me in the field every week for varying field works; and the list goes on!
Outside of marine science: my freshman year I took a very impactful course "Power, Culture, Equality & Service (Hunger & Homelessness)" in which I spent 5 hours a week working in an emergency women's shelter. I had the opportunity to develop relationships with those that are too often ignored in our culture.
One semester, I spent studying in Italy (I am an visual & public arts minor). There I took a number of engaging classes that involved experiencing the italian culture. Many of which I got to walk around Italian markets, striking up conversations with locals, going to wineries, attend exquisite galleries, and of course taste the many flavors of Italy.
Back in the states (at CSUMB), I've also taken a good amount of fun classes like surfing and scuba diving. (Currently I am master & rescue certified and I am in the process of becoming a scientific diver.)
Q. Is it difficult living so far from home?
For me it hasn't been too difficult. There are certain things I always miss (like seasons – especially fall, pizza shuttle, coffee shops in downtown Lawrence & KC, etc;) but for the most part, I have been doing well. I have family in the Bay area (a two hour drive north) that I can visit if need be. Now that I am in my senior year, and I have a home and a life out here, it is easier to be away from Kansas.
Q. Are your classes very hands-on?
My classes are extremely hands on. Most of my courses have a lab component and in this stage of my undergrad education, I have many projects that require field work.
Q. Have you experienced much marine life?
Yes. Through my "Working with Marine Mammals course" I had the opportunity to work with some amazing sea lions. From simply diving, I have had many interactions with marine animals. I have seen a variety of fishes, inverts, and marine mammals. There was one Halloween where my dive partner and I decided to carve pumpkins underwater. will hallowed out our pumpkins, filled them with rocks to help them sink, and grabbed dive knives. As we were carving our pumpkins, harbor seals swarmed and kept eating pieces of the pumpkin that were cut away. They are incredibly curious creatures.
Also, from working/volunteering at the Monterey Bay Aquarium, I am handling marine life on a weekly basis.
Q. What are your plans for the future?
Ideally, I plan to be a research diver and scientific illustrator for coral conservation. Planning to travel around the world to partake in projects, I also idealize myself taking a mission trip component specific to fighting human trafficking on a global scale.
More recently, I am preparing to go on an 8-week voyage with Boston University where I take courses and conduct research specific to coral conservation & management in the Phoenix Islands (between Hawaii & Fiji).
Q. Do you enjoy living closer to water?
Heck. Yes. I live right off of highway one (look up pictures) and often see whales breaching as I drive down the coast to get to work, school, etc; It is a huge blessing to be able to live so close to waters filled with an abundance of life.