The leads of the musical "Oklahoma!"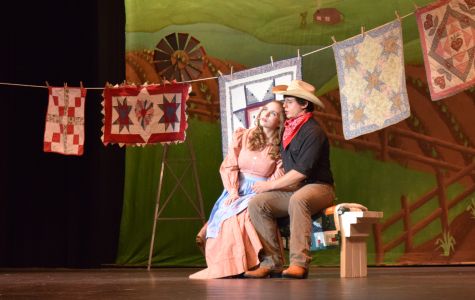 This year's musical is "Oklahoma!" and auditions are already finished. Senior Wyatt Slavin and Junior Hannah Parks got the leads, Curly and Laurey. Slavin answered some qeustions about why they are in the musical and what to expect from "Oklahoma!"
Why were you interested in being in the musical?
I was first introduced into the musicals my sophomore year when we put on the show grease. I fell in love with the acting and singing and dancing along with all the friends I made through it. So that's when I first got involved and I've been pretty involved since and I know I wouldn't miss performing in the show no matter what.
How has the musical been a positive experience for you?
This year I was casted as one of the lead roles in Oklahoma, a cowboy named Curly. I really enjoy singing his songs and creating actions that fit his character. And I can't wait to see how it all comes together on stage.
What are we to expect from this year's musical "Oklahoma!"?
This years musical Oklahoma, will be a great show I can tell you already. We have been hard at work on the dancing and singing with out new vocal musical teacher this year Mrs. Buffum, and Mrs. Cook has been creating some wonderful scenes that the audience will enjoy. I hope we can have both opening and closing nights be sell outs. As long as we spread the word it shouldn't be a problem.