Spirit activities lead to a successful winter royalty week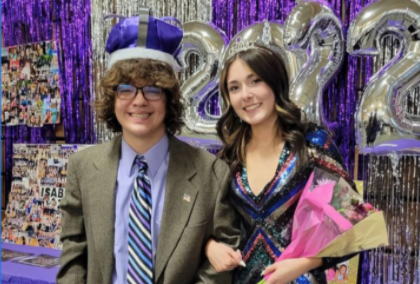 The race for a crown begins… The winter royalty crowning is on Friday, Feb. 18, during halftime of the boys home basketball game vs. Ottawa. The candidates are Abby Patterson, Cole Mahaffey, Gracie Bryan, Wyatt Bathke, Jade Venable and Zayne Nowak. 
This year's winter royalty candidates are involved in various activities during the winter season.  Patterson is a basketball manager for the boys basketball team. Mahaffey participates in basketball, Bryan is involved in cheer, Bathke participates in band and numerous clubs, and Nowak participates in wrestling. 
"My favorite winter royalty celebration is the dance afterwards," said Bathke. "I'm a big fan of school dances and this one is no different. I like hanging out with my friends and it's always a good time"
After the basketball game there will be a dance in celebration of this year's Winter Royalty. The week leading up to Winter Royalty is full of activities to increase school spirit. For example, some spirit days include: bikers vs. surfers, red flags, throwback to junior high, and cloud 9. 
"My favorite spirit day is for sure going to be cloud 9. I have so many options for outfits and it's definitely going to be interesting to see what everyone else will wear that day," Patterson said.
In addition, BHS Student Council is hosting a pep rally Monday, Feb. 14, during seminar to encourage excitement and school spirit. BHS STUCO plans on hosting various activities, to get to know the candidates and get the student body hype in preparation for the crowning.
"My favorite winter royalty celebration is probably the dance that is going to be after the crowning. It's a great way of getting everyone together at the school and just having fun in general," Patterson said. 
Picture journalism The winter royalty dance will be  from 9:30 to 11:30 p.m. in the high school gym.