Local fire department looking for young recruits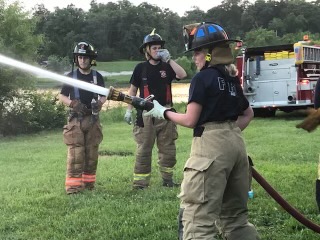 The junior firefighter program with Palmyra Fire District No. 2 is designed to help build a foundation for any high school age student that wishes to pursue a career in emergency services.
"I started the program with the desire to get young people involved in the fire service so we can keep the volunteer departments alive," Chief Mike Hirschmann said. 
Connor Quick was one of the original members of the juniors program and is now serving as an adult volunteer with the department.
"My advice would be if you have thoughts about being a firefighter or just want to see what it's about, do it," Quick said.
To be a part of the juniors program you have to be at least 16 years of age and have a valid driver's license to respond to calls. Juniors can respond to any call as long as it isn't during school hours. 
"Really my favorite thing about the program was how light hearted everyone was and how willing they were to teach us," Olof McTaggart said.
The program allows young people the opportunity to feel as though they are a part of the community.
"It is very fun to me and awesome to be able to give back to the community," Quick said.
To be in good standing with the juniors program attendance for the monthly meeting and training is essential. 
"When doing hose work out at the lake and it was all the juniors first time handling the hoses and Christian got hit in the face with the hose," Kelsey Swonger said.
Palmyra Fire District No. 2 is continually recruiting and accepting applications for the juniors program as well as adults for the department. 
"My biggest goal is to get the youth interested in a stable job with goos benefits that's also rewarding to them," Hirschmann said.
If you have any questions you can reach the department with their email [email protected] or their phone number 785-594-6944.