Students disappointed with spring cancellations
With the COVID-19 pandemic forcing everyone to stay at home, many school events have been canceled—including school itself. In addition to the classes, sports, and events that have been canceled, many Spring activities have been stopped as well. 
"I'm disappointed that I won't get to participate in my last festival season," senior trombone player Sophie Dechant said, "but it's a small sacrifice to make in order to protect our community during this time."
Before spring break, the BHS Band was preparing to attend three festivals: District Festival, State Festival and Large Group Festival. Many students were playing solos and ensembles at districts in order to qualify for state. 
"I was most excited for the opportunity to perform my solo and ensembles at the regional and state ensemble festivals," Dechant said. "l always liked getting to hear the soloists and ensembles perform. In concert band, everyone is trying to blend their sound with the person next to them to make a cohesive sound. At solo and ensemble fest, you get to hear individuals and small groups perform that you normally wouldn't listen to. It also gives the performers a chance to showcase their individual musical abilities in front of their friends and families."
The band's State Festival was not the only state event to be canceled; State FBLA and State Forensics were canceled as well. 
 I really wanted to take the political science test, which I am not able to do now," junior FBLA member Jacob Hofman said. "I got second on that test during regionals and was looking forward to seeing how I did at state. I will also miss doing a presentation with Atticus, it was his last year."
As of this date, all FBLA events have been canceled except Nationals, which are held in June. This differs from Forensics events. 
"All forensics meets for the rest of the year, including state, are cancelled," junior Forensics State Qualifier Jalynn Murry said. "I had qualified for state in poetry which I was very excited about due to it being a more populated event."
The Forensics Team has had a great season this year, winning many tournaments. 
I will miss competing at state and in regular tournaments," Murry said. "I will also miss being with my team and taking victories as a team, which we have been doing all season."
When talking of performing, one can not ignore the Spring Play. This year's play, name of play, was set to perform this past date of play. 
"The play is canceled for the high school's production, but we were thinking of doing it in a different theater if we get permission to perform it," said sophomore cast member Karsten White. 
Many hours have been put into this production and the students are not willing to give up. 
"This play is really fun and funny compared to last year's production, because everyone is really dedicated to the play and people are just really having fun," White said. " It is very frustrating because of all the hard work and hours we put into trying to make this the best we can. It almost feels like we did all of this for nothing."
Many events have been canceled due to the pandemic; the best thing people can do is stay inside and stay clean.
About the Writer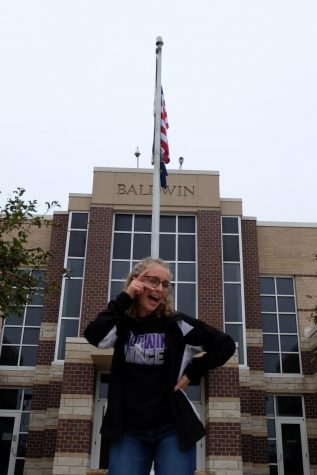 Becky Fritzsche, Editor-in-Chief
Junior, Editor-In-Chief
If you only had one week left to live how would you spend it? I would travel to Italy and sit on a beach eating tons of gelato...