A new beginning, girls wrestling at BHS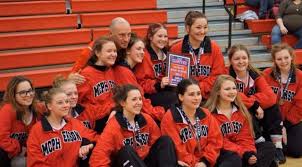 Emma Grossoehme, BHS Journalism
March 20, 2019
With girls wrestling growing rapidly nationally as well as in the state of Kansas, many are turning their heads to the decision KSHSAA will be making in April. The important decision will be determining if girls wrestling will be a sanctioned KSHSAA sport.
"I absolutely am wanting to bring a girls wrestling program to Baldwin High School," coach Kit Harris said. "I think it would be a great addition to our school and the sport of wrestling."
He is not the only one who thinks this way either. In 2018 alone, 8 more states sanctioned girls wrestling in high school, giving many girls the opportunity to compete on the mat with another female.
"I would definitely take the opportunity to wrestle," said sophomore Jasmine Renyer, who is considering joining the wrestling team. "I've wanted to wrestle for a long time, my brother did it for a long time so I was always there watching."
Renyer is not the only girl interested in wrestling for BHS. The school has had many female wrestlers in passed years, including Lauren Green a freshman who wrestled the 2018-2019 season.
"I'd be very excited because I know there are a lot of girls who want to wrestle but don't because they think they would only have to wrestle guys," Green said. "Having a full team of girls would be really cool since I only compete against them."
Since 1994, the number of women who wrestle in high school has grown from 804 to 16,562 in 2018 (According National Wrestling Coaches Association). With the decision of sanctioning this sport in so many states, the participation numbers have grown tremendously.
"I believe that we have shown KSHSAA that if girls are given the opportunity to wrestle against the same gender, we will see a significant rise in participation," McPherson High School head wrestling coach Doug Kretzer said.
Kretzer has been the driving force for a KSHSAA approved team in the state of Kansas. In 2017, he started an unofficial state tournament for only female wrestlers. The numbers have grown massively since this addition.
"Typically the more students in activities, the more students are invested in being getter students," Kretzer said. "If we get more girls wrestling, that's more students invested in being a better student. We have grown from 112 girls wrestling in 2017, to 376 girls wrestling in 2019."
Women's wrestling has also been growing in the collegiate level. Last year, Baker University started a team.