Trap team dominates police in second annual competition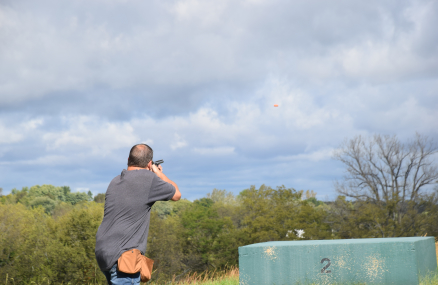 Hang on for a minute...we're trying to find some more stories you might like.
At the Bulldogs & Blues trap shooting competition on Saturday, the Baldwin trap team demolished local law enforcement by more than 100 targets.
"One of the main purposes for the event is to raise money for police families," sophomore Justin Kempenar said.
"We are also trying to get some of the kids to bond with the police,"  sophomore Ethan Eckman said.
The intended purpose of the competition was meant to be a form of bonding experience between Baldwin youth and the Baldwin PD.
"It's good for people to know that our police are our friends and are here to helps us," Kempenar added.
"I think that it is great that or youth can get to know and bod with the police, because it's not very often that kids get to interact with police in a calm and controlled environment," Police Cadet Zach Mersmann said.
When asked about who would be the winner this year, they said
" Trap team, obviously," Eckman said.
"I have no doubt that the Trap team will out shoot us,"  Zach Mersmann said. 
"Probably the Trap team, we've had much more practice with trap shooting than the cops do,"  Kempenar said.
As it turned out, the trap team won by 100 points, leaving the police team in the dust. Although the police lost by a landslide, both teams were a good sport about all of it and everyone had a great time at the competition.  Both the Trap team and Police are excited for the next Bulldogs & Blues event next year.