Venture Crew, Exploring the Great Outdoors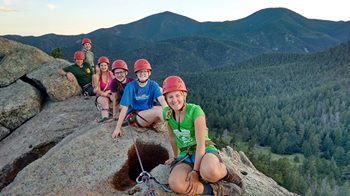 Rachael Fritzsche, Feature Editor
August 28, 2017
Whether it is going on a weekend hike, rock climbing at the local gym or kayaking through the swamps of Louisiana, Venturing Crew 2052 is full of activities for everyone. Meeting every second and fourth Thursday every month at St. Margaret's Episcopal Church in Lawrence, Kansas, this all girls Venturing Crew participates in many events all over the country year-round.
Venturing Crew is an active and outdoors outlet for both boys and girls, provided all across the nation through the Boy Scouts of America (BSA) organization. Through Venturing Crew many activities from earning awards and ranks, to going on High-Adventures across the world are made accessible to the boys and girls of America. Referred to as co-ed Boy Scouts, it is an outlet for leadership skills, adventure, and life changing experiences to be formed.
High-Adventures are activities that involve great physical, mental and moral strength and create life time memories. These High-Adventures include trips such as backpacking, whitewater rafting, sailing, canoeing, rock climbing, and many more. As far as the locations of these extravagant activities, they are held all across the nation, as well as across the globe. From the Boundary Waters in Canada, islands in the Florida Keys, the Rocky Mountains and the vast landscape of Ireland and Scotland.
Based in Lawrence, Kansas, Venturing Crew 2052 is one of the highest functioning crews in the area, as well as one of the very few all-girls crews in the nation. This highly-efficient group of females comes from all across the northeast area of Kansas including Baldwin City, Emporia, Lawrence, Tonganoxie and Topeka. Crew 2052 goes on many small group trips, such as backpacking in Elk River, Kansas, to going on multiple week-long kayaking trips in the swamps of Louisiana. Along with these trips, the crew puts many long hours into growing their leadership skills through taking many courses and classes about time management, youth leadership,  project management and wilderness survival.
Any female age 14-21 who are seeking a place of excitement, adventure and leadership are more than welcome to come join the crew at any of their meetings and events. Venturing Crew 2052's next meeting will be at 7 p.m. Sept. 14th in St. Margaret's Episcopal Church in Lawrence, Kansas. They will also be holding a recruitment overnighter Jan. 14-15 at the Ibex climbing gym in Blue Springs, Missouri. For more details about the BSA Venturing Crew program or about Venturing Crew 2052, checkout the crew's website at venturingcrew2052.org, or contact BHS Senior Rachael Fritzsche at [email protected].