Debate preparing for a win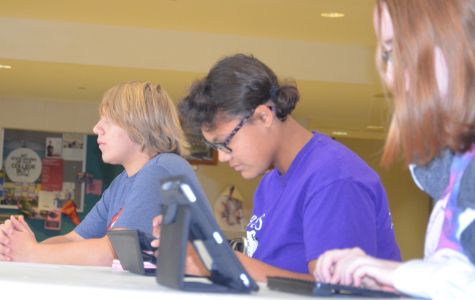 Hang on for a minute...we're trying to find some more stories you might like.
One team, one dream…the debate team has been busy conjuring up hot topics discussed in today's politics with help from teacher David Stephens. Expressing passionate opinions has always been a big factor for the team. Their resolution now is "The United State Federal Government should substantially increase its economic and/or diplomatic engagement with the People's Republic of China."                                         
"We spend the first month of class or so learning all of the basic debate vocabulary," Stephens said. "Then after we start competing, we collectively decide on what evidence we need to gather to the benefit of all our debaters."
Having the perfect comebacks and defences are crucial to the team. The team's main goal is to strongly defend their cases to the best of their ability and collect evidence that supports their cases.
"We create cases and find negative evidence against other cases," sophomore Samantha Orender said. "I like the experiences and all the different challenges in debate, my favorite part is creating a case."
The complexity of the debate topics varies from year to year. This year, there are 11 debaters from the freshman class there is Sam White, Nicole Ebert and Tasha Nyberg. Sophomores are Orender, Adrian White, Carly Lindenmeyer, Dylan Thompson. Juniors are Lauren Peterson, Brandyn Elliot and Dylan Linder. The team's only senior is Jake Sultani.
"The worst part about it, is all the research we have to do," Elliott said. "My favorite part is getting up to defend my case."
The team has competed in eight debates so far students are busy preparing for the upcoming debate this Saturday, Dec. 17.
"The most stressful part for me is keeping students on task," Stephens said. "Research can be tedious and while informal in class discussions can be helpful, sometimes, they tend to carry on for too long, which leads to little actual work getting done."