Love all: new members of the tennis team share their stories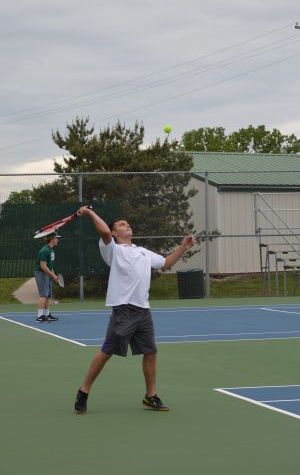 This season, the Baldwin High School tennis team is honored to have a plethora of players returning to the courts, all in the form of juniors and sophomores, and also a few newcomers- some of whom are familiar with the sport, just not with the BHS team.
One of the most notable additions is coach Richard Weaver, a first-time tennis coach, but a man well-versed in the sport.
"I've taught tennis for several years at the college level in PE classes but this is my first year of actually coaching," Weaver said. "I played quite a bit in my 'younger' days which is quite a while ago….like a half century."
Weaver went on to comment on how the team has been faring thus far.
"The team has done a solid job this year finishing second in the league at the recent league tournament.  Auggie Lange has had an outstanding year, winning the league Singles 1 and Javier Herradon finished second in Singles 2."
Herradon, a junior and an exchange student from Spain, has a long history with the sport, and has became a valuable asset to the varsity team.
As for the JV players, sophomore Tucker Austin is another new addition to the team, and doing quite well for himself with a 7-5 record.
"The thing I like the most about tennis itself is how much it surprised me with its physical demands," Austin said, "because while they do not compare to some of the higher intensity games with loads of running, it still managed to work me into a sweat and give me a challenge."
This is Austin's first year playing the sport outside of PE, and he is growing closer to his team; and never once felt like the odd-man-out due to his lack of experience.
"The team is very relaxed and welcoming to newcomers, I never felt like I didn't fit in even though my skill level was well below others at the beginning," Austin said.
Weaver also commented on what he enjoys about coaching this group, along with their work ethic.
"Getting to know a new group of players is always fun," Weaver said. "We have a fairly young group with no seniors and they are getting some good experience this year."
The Bulldog tennis team plays at their Regional competition in De Soto, Friday, May 6, and Saturday, May 7, at 9:30 am. The State Tournament is the following weekend, Friday, May 13, and Saturday, May 14, in Topeka for the top six singles and doubles teams who make it through Regionals.