Organization provides free prom dresses for girls in Midwest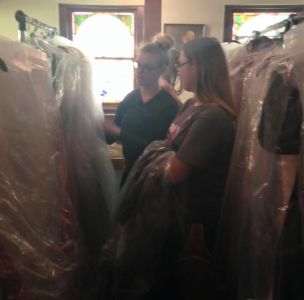 Most girls dream about Prom night, about being swept across the floor by their date, wearing a dress of true Disney caliber. Girls want to feel like a princess, but sometimes the gown they want requires the bank account of an actual royal. Girls, put aside your prom dress worries, because the Green Prom Movement is here to help you find the dress for you, free of charge.
The GPM is an organization that collects used gowns and formal wear, and caters to Prom night, formal, even 8th grade graduation. Founder, Tobie Roberts, aided by her mother Michelle, began the GPM as a Girl Scout Gold Award that has now boomed into a popular business.
"We currently have over four hundred dresses in our collection," Michelle said. "In the past five years, we have distributed close to two hundred dresses and we have had many of those dresses come back to be given several turns at prom."
Tobie Roberts, Miss Teen Kansas 2013, explained how to set up an appointment to look through that collection for a dress.
"Girls can schedule an appointment by either calling us, sending a message through Facebook, or email us," Tobie Roberts said.
Tobie also had a few tips of her own for prom night.
"Always wear comfortable shoes," Tobie Roberts said, "and of course donate forward."
To schedule your appointment, look through their catalogue of dresses, or find out more about the GPM, visit http://www.thegreenprommovementfoundation.org, send an email to [email protected], message them through their Facebook page The Green Prom Movement, or call (785)-248-1557. For updates on The Green Prom Movement, check their blog weekly and like their Facebook page.