Spring Play auditions for 'Black Coffee' are all wrapped up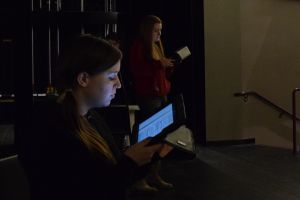 On Feb. 3, average students gathered in the upstairs hallway, waiting to become someone else simply by stepping into room 213. Spring Play auditions have come and gone, and thirteen roles have been filled for the Agatha Christie murder mystery Black Coffee.
The man behind it all, second-year director David Stephens, spoke about why he selected this Christie classic, and reasons the community should be excited for the April show dates.
"I was looking for a murder mystery, and this just seemed like a fun one," Stephens said. "It also had a good-sized cast, which allows more students to be involved. People should be interested in the production because it is a gripping and mysterious story and the cast is a competent one who should be able to bring the script to life."
The assistant director for this year's production will be Laura Linder, new to the director's chair, but not to the world of theatre.
"I have had the pleasure of being part of some Baldwin Community Theatre," Linder said, "but I enjoy being backstage more. Most recently I helped with set design, costuming and props on BHS's production of Harvey. I enjoyed doing the research of the time period and trying to find the right furnishings and costumes to make things look realistic."
While there are many returning actors cast in Black Coffee, it will be the last year of performance for some of them. Senior Daniel Vakser has returned for his third Spring Play performance, landing the role of Christie's protagonist detective Hercule Poirot.
"I hope to bring my very best on the stage and finish my final high school play with a bang," Vakser said. "It's kind of sad, knowing that this is my last show in high school, but it also gets me to enjoy every second of it and appreciate all that I have done up to this point."
Another senior coming back to grace the stage once more with a prominent role is Alex Daniels, playing the part of Richard Amory, a suspect in the murder investigation. Daniels is excited for his second year involved with the play, and loves the feeling of becoming someone else once the curtain rises.
"When I'm onstage, it's like I disappear almost," Daniels said. "I'm no longer Alex, but the character I am portraying. I am comfortable, relaxed, and I feel at home when I'm on stage. All of my worries and fears kind of just melt away with each passing line. I get absorbed into the story almost as much as those watching. I become something more than myself, I become part of something grand. These are the reasons I love performing."
The cast has been selected, rehearsals are underway, and Black Coffee will be coming to the Performing Arts Center Friday, April 8, and Saturday, April 9, at 7 p.m.