New comic book store comes to Baldwin City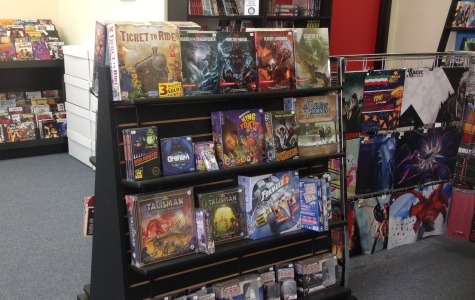 Baldwin Games and Comics, a new store that has opened up downtown by the library, has a wide assortment of products. These products include pen and paper rpgs, card based games, collectable figures and comics.
Gabe Dorsey, who owns the store shares his thoughts the businesses success.
"More teenagers than adults (come into the store), but its a good mix of both," Dorsey said. "Magic (The Gathering) is doing well."
He is thinking about adding classic games and vintage toys to the stores selection, but he is unsure about both options. He also will do special orders for customers who ask, to better serve their needs.
Events at this store include weeknight and weekend game time, which is open to everyone. Many students visit this store, and have been interviewed on this subject.
Senior Emmett Martin is one of the customers who enjoys this store.
"I enjoy going there to play Magic (The Gathering), Pathfinder (modified Dungeons & Dragons), and I wouldn't have gotten into either without the store. I also got into different  new comic book series because of this comic book store too," Martin said. "The employees and people there are nice, and I made many new friends from playing."