Fall Musical to present 'Grease'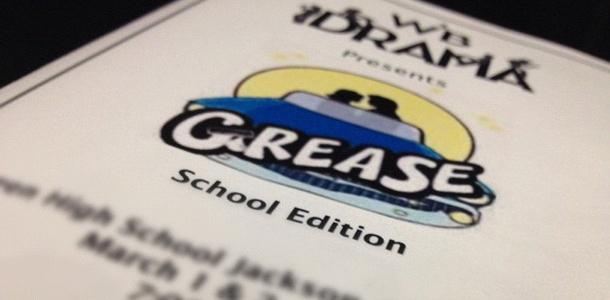 Between September and November, Baldwin High School's new Performing Arts Center will be transformed back to 1959 for the theatre department's annual Fall Musical production. This year, BHS will be presenting "Grease, School Edition" as its fall show. With leather jackets and cat eye glasses, "Grease" has evolved into a high school favorite show and is bound to be a hit at BHS.
"There seemed to be some interest in Grease among the student population," musical director Beth Nelson said. "We read the original edition and decided there was some content that might not work at school, so we went with the school edition instead."
"Grease" follows new student Sandy Dumbrowski and greaser pack leader Danny Zuko at Rydell High after their summer romance where Danny dismisses their relationship to save his reputation. The characters deal with many issues often present in high school and includes memorable songs such as "Greased Lightnin'" and "Summer Nights."
"It's a classic, favorite show," senior Cassidy Markley said. She has participated in all four fall musicals at BHS.
Open auditions for "Grease, School Edition" will be held at 3:30 p.m. Sep. 23 and 6 p.m. Sep. 24 At the beginning of auditions, a basic choreographed sequence will be taught. After performing choreography, students will audition in pairs by singing and reading an excerpt from the script. Students auditioning are asked to prepare any brief musical selection to perform for Nelson and director Katherine Cook.
Lead roles in "Grease, School Edition" include Danny Zuko, Sandy Dumbrowski, Bette Rizzo, Kenickie, and many more. Any and all students who audition are granted the opportunity to participate in the show. Student participation is also needed for non-performing, production jobs. As the performance dates approach, backstage help will be needed in lighting, sound, crew, and costume departments. Cook and Nelson can be contacted regarding information about non-performance participation.
Rehearsals for the musical will be held on Monday, Tuesday, and Thursday of each week from 6-8 p.m beginning Sept. 30.
"It's a great experience," Markley said. "You will never regret auditioning for the musical, but you might regret passing up the opportunity."
On Nov. 22 and 23, make sure an opportunity is seized by performing on stage, joining a production crew, or participating as an audience member in the forthcoming production of "Grease, School Edition."