From sports to clubs senior Riley Smith does it all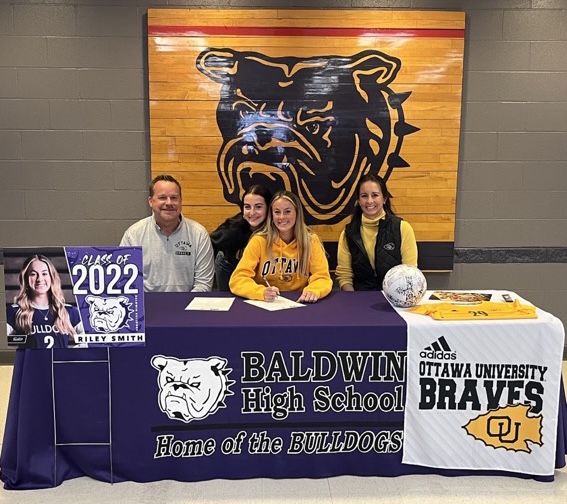 As we get closer to the end of the 2021-2022 school year BHS sends a fair well to all of our seniors. This specific senior has played an important role in the community of BHS. Ranging from many different clubs such as Student Council, NHS, etc and multiple sports. . .she has done it all.
Senior Riley Smith has partaken in many clubs throughout her 4 years of high school at BHS. 
"I have been involved in Mardis Gras, Student Council, National Honor Society, Environmental Club, Acapella, the Fall Musical, and Concert Choir," Smith said, when asked what all clubs and activities she got involved in at BHS.
Smith was not only involved with all of these clubs but she also participated in multiple sports including basketball, soccer, cross country, track, and the dance team. Smith has always been involved with something during her time in high school.
"At an early age, my mom has always had me participate in a wide range of activities because she wanted me to have a well rounded childhood," Smith said. "It became something that was also really important to me, so I wanted to do everything I could participate in when I got to high school."
Smith has been involved with so many activities that it would be too hard to just chose one that she enjoyed the most. 
"I love all of the different sports and activities that I do because they all bring something special and unique to the school, so it would be impossible to just choose one favorite," Smith said.
As Smith was a leader and captain within these groups she learned a lot of new things and created a lot of new experiences that she will never forget. 
"One piece of advice I would give students who want to be involved is that BHS is the absolute place to try anything you might be interested in," Smith said. "All of the teachers and coaches are incredibly supportive and understanding, and there is no better place than Baldwin High School to try something new."
As the school year comes closer to the end the seniors continue to prepare for their life ahead. After four years of being involved In the BHS community Smith has left her mark. 
"The thing I will remember most about being involved in clubs and sports is all the people," Smith said. "By trying different things, I was able to learn from so many different people and it made my high school experience so unique."