Students enjoy job at local coffee shop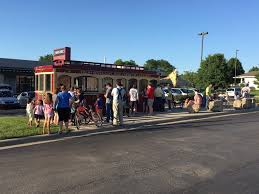 Jitters is a very successful coffee shop here in Baldwin City, Kan. The coffee trolley is open from 6AM to 7PM, and a handful of students here at BHS work there.
Juniors Audrey White and Drew Schoendaller are 2 BHS students who work at Jitters. Audrey White started working at Jitters a long time ago and has enjoyed working there ever since.
 "My mom had owned it since I was little, so when I was old enough to work I was encouraged to work there and I was happy to," White said.
Drew Schoendaller has been working at Jitters for awhile as well.
"I needed a job to start me out and start earning money for a car," Schoendaller said.
Working at Jitters is as easy as it looks, especially over the weekends. Both Schoendaller and White0 have said the weekends are pretty crazy. 
"The hardest part would be during the rushes. Like on Saturday mornings there is usually a constant line of cars for about 4-5 hours so you don't get a break," White said.
"The morning rush on Saturdays are the hardest part because of how many people come through there," Schoendaller said.
While working at Jitters there can be some impatient customers and can be disrespectful but the employees always are patient with them.
 "There has been a couple costumers who have been rude but for the most part respectful," White said.
You can also pick up a thing or two while working at Jitters and learn how to make a certain drink or coffee.
"If you ask me to make a certain kind of coffee I could probably do it," Schoendaller said.