Freshman Lucas Hafer progresses from playing guitars to building them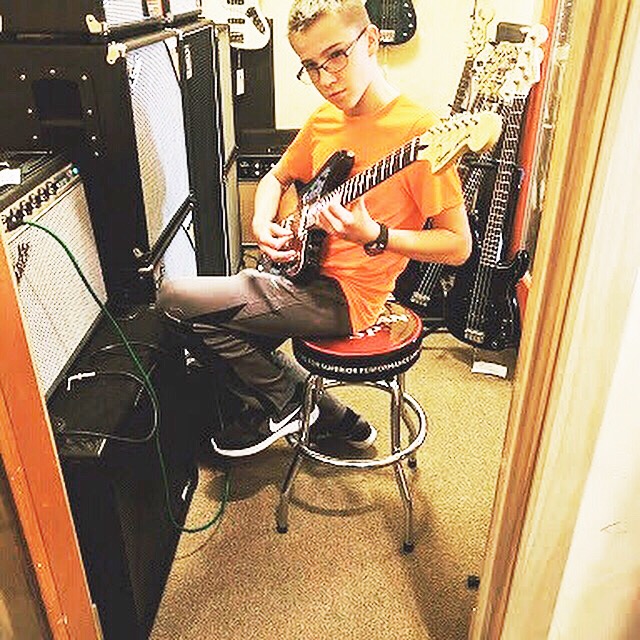 Henry Morgenstern, BHS Journalism
May 2, 2019
Within the walls of BHS there are few individuals who play instruments. Even less people can say that they are building an instrument. Freshman Lucas Hafer can see he fits into both categories.
"The actual building process started probably a couple of weeks ago, but the research started at least a month and a half ago," Hafer said.
As you can imagine building a guitar is not as easy as it sounds.
"For a guitar there are many precise measurements," Hafer said, "and when we printed out the templates to build the body from, the measurements were actually not right so we had to make those on our own. The research was hard just to figure out what I'm doing."
The research that he had to do took a long time and was tough.
"The research alone took several weeks and amazingly," Hafer said. "One of the hardest parts was figuring out where to start and what I needed to buy."
There are also lots of interesting parts about building a guitar that you learn a lot from.
"The most interesting part to me is that a lot of people don't understand what makes an electric guitar electric," Hafer said. "It's more than just some wood and strings. It's just cool to see exactly what goes into a guitar.
Lucas plans to build another guitar sometime after finishing his first one because he enjoyed the process so much.
"To me, the whole project was fun because this is something that I love to do," Hafer said, "and I've kinda always wanted to build one and now I feel like I have a greater understanding (of the guitar) and it's really rewarding. I already have some good ideas for my next one."