Trivia becomes fun tradition for BHS staff, students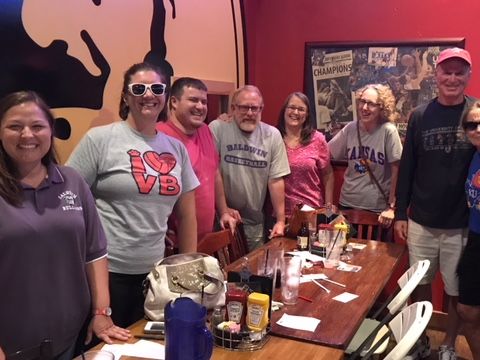 Hang on for a minute...we're trying to find some more stories you might like.
Now it's time for the teachers to answer the questions.
A group of Baldwin High School teachers regularly go to a trivia game night weekly. The games started as a fun staff bonding activity, but then became a regular thing.
"We, as newer teachers, thought it would be a fun way to get to know the staff," art teacher Becky Weaver said.
The group of BHS teachers has become very serious about these trivia nights.
"However, our team captain (science teacher Jim Ashcraft) feels like betting 20 points on the final question is a must no matter how confident we are," math teacher Danielle Balsman said.
When BHS students found out about the trivia nights, they decided to take on the teachers.
"Many of us all do Scholars' Bowl together and decided to go out and expand our skills by challenging the teachers," sophomore Kayla Mountain said. "We kept doing it because it is a lot of fun to be with friends and display our knowledge."
The students have been taking on the teachers weekly, even giving them a run for their money some nights.
"We have beat the teachers on several occasions, I'm not too sure how many times considering we play every week," Mountain said.
The trivia nights take place on tuesday nights at 7 p.m. at the restaurant Johnny's West in Lawrence.