Animal work both a passion and a job for BHS alum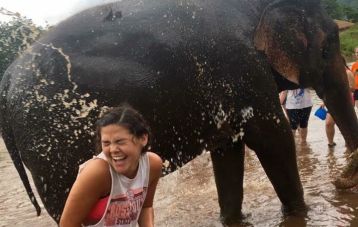 Hang on for a minute...we're trying to find some more stories you might like.
When Baldwin High graduate Hannah Hutton goes to her job in Oregon, she isn't greeted by the usual gray office setting. Instead, she's met by seven chimpanzees and a Canadian Lynx.
Hutton has been working for an organization called Chimps Inc. in Bend, Oregon, for four months. She helps with keeping the chimps clean and fed. All of the animals she works with came from the pet or entertainment industry.
"I work with them probably ten hours a day," Hutton said. "I'm only paid to work eight hours a day, but I love them so much it's hard not to spend all of my time with them."
She doesn't work with just chimpanzees, either; she worked with elephants during the summer of 2016, as well.
"They have so much power," said Hutton, " but [they] are some of the most gentle creatures on earth."
Hutton spends as much time as she can with her animals. To her, they're more human than animal- they're her friends, and the species barrier doesn't apply to them.
"Working with the chimps is completely different because they were all raised as humans so they are honestly just like my friends," Hutton said. "I am able to speak with a few of them using sign language and other times we just speak to each other with 'chimp talk,' they also understand the English language. I often have to remind myself these chimps are not human beings. But after working with them for a few short months I have realized that this distinction is meaningless to me."
Hutton has always been passionate about animals. She has loved being outdoors and interacting with creatures of nature. Hutton said that one of her main inspirations when she was young was Dian Fossey, who she first saw in the movie Gorillas in the Mist. Fossey was a scientist who studied and lived with gorillas in Africa.
"I was fascinated by that movie, and ever since it was my goal to work with animals in some way," Hutton said.