Exchange students find friendship, new experiences at BHS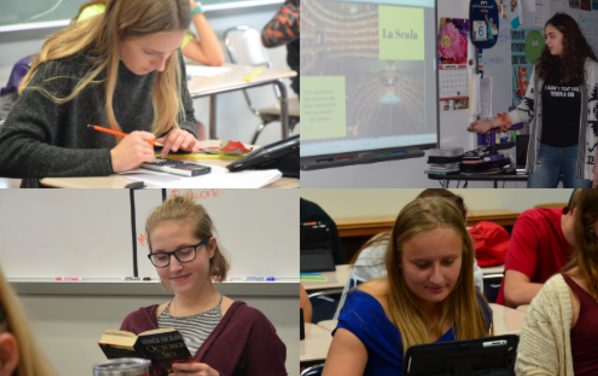 Hang on for a minute...we're trying to find some more stories you might like.
Four exchange students spent the 2016-17 school year living in Baldwin City and attending Baldwin High School. Juniors Greta Maiellaro, Doina Chilat, Antonia Lang and Pauline Sauter traveled to America from their home countries of Italy, Moldova, Northern Germany and Southern Germany, respectively.
"When I first heard about living in Kansas, I expected everyone to be in country style," Lang said.
The exchange students have spent the past year adjusting to the American lifestyle, especially the differences in the American schools.
"Germany has a different school system so school is completely different," Sauter said. "German school is harder but you have way more homework here."
All four exchange students were born in countries which speak languages other than English. Along with adjusting to a new culture, they have also gotten a lot of practice with speaking English during their time in America.
"This spring I got involved in the spring play and spent a long time remembering the lines in English," Chilat said. "But it turned out to be pretty good."
Throughout their time in Baldwin City, the foreign exchange students have taken part in many school and community activities including sports and clubs.
"I love doing track here," Sauter said. "We have really good coaches and an amazing team."
Lang spent the winter season as a manager for the wrestling team and in the spring became an outside defender for the women's soccer team.
"I loved being a part of the wrestling team and the soccer team," Lang said. "Since we don't have school sports in Germany it's been a great opportunity to be so included."
This year's foreign exchange students agree that they have all enjoyed their time spent at BHS. Although they look forward to returning home to their families, they will miss attending the high school and living in America.
"I will miss absolutely everything about Baldwin High School," Chilat said. "It's an amazing school where my dreams came true."