Superstitions in Baldwin athletes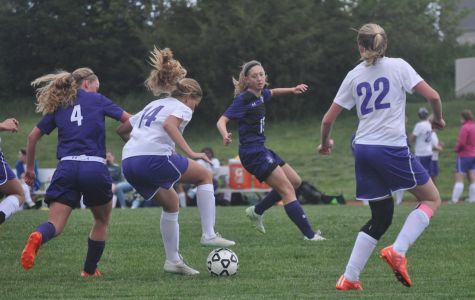 Athletic superstitions are something very common throughout athletes, not only in high school, but also in professional sports.
"I am a superstitious person. I think if things are going good for a team they should continue doing everything that has given them success," football coach Mike Berg said.
Some superstitions are based in different religions while others are based purely out of comfort for the athlete.
"I draw a 'J' behind the plate before every at bat and touch it before each pitch. I also do the sign of the cross before every at bat and say Philippians 4:13," senior Cori Thompson said.
Some athletes do believe it affects their performance heavily for the better and don't want to go without their superstitions.
"Yes, I do believe it affects my performance. I rarely strike out and I feel like this has something to do with it because I have the Lord and my grandpa looking over me," Thompson said.
While some athletes believe it affects their performance, others follow their superstitions or routines based on comfort.
"No, I don't believe it affects my performance, but I find it very comfortable to follow a routine before every game," sophomore Isabel Tiller said.
Some coaches disregard superstitions in their athletes, while others believe and support them.
"Yes, I feel like it does make a difference for an athlete's performance. 'If it isn't broken, don't change it' I heard this quote and I really believe it," Berg said.