A fall musical that will make you say "Bye Bye" summer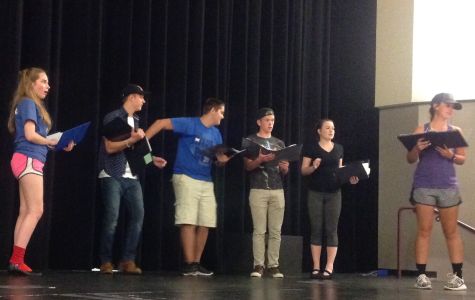 The 2016 fall musical "Bye Bye Birdie"  is looking to be a showstopping hit. With a month and a half left until performance, director Erin Buffum is getting very excited.
"We will be running all of Act 1 on Monday and we still have a month and a half left," Buffum said.
The musical is moving fast and Buffum thinks that the performance will be running smoothly with the cast by showtime.
"There are about forty people in the cast for the musical this year," Buffum said.
Although there is a plentiful cast, it is still a lot to handle for the multi-talented musical director. By day, Buffum's a choir teacher for grades 6-12 and by night, she is a hard-working musical director.
"The hardest part about directing is trying to juggle all of the different jobs," Buffum said. "The set, and the dancing, and the costumes gets kind of crazy."
The musical is stressful for this director but, she also has a love for the kids and theatre that keeps her coming back for more every day.
"The students make directing fun," Buffum said. "They are really fun and I love watching the different acting styles they bring into their roles."
Coming into this new year, Buffum had to consider what musical would fit our school the most.
"I was looking for something light-hearted and something that had comedy with lots of bright colors on stage," Buffum said. "Having those requirements led to 'Bye Bye Birdie'."
Most of the students enjoy the production and agree that there is an abundance of comedy throughout the musical.
"The musical is going great, I'm really proud of everyone in the show for staying so positive and determined," said senior Hannah Parks who is playing the role of Ursula.
The seniors in the cast are all so excited for the performance of this year's musical with the whole cast.
"We will see how it goes," said junior Drew Villaca, who is playing Mr. Mcafee . "So far it's going really awesome though."
The cast of this fall's musical is ready for the performance on the weekend of Nov. 19.