WHERE ARE THEY NOW? Austin Chavez now a welder after graduation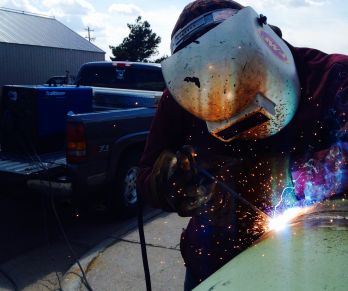 Where are they now?
Baldwin High School alumni Austin Chavez graduated in the class of 2013, with the inquiry of becoming a welder. Chavez attended to North Central Kansas Technical School in Beloit Kansas for college to pursuit his welding career. Spending a year in college he returned back to his hometown of Baldwin City, to seek a welding business.
Senior year of high school, did you know what you wanted to do for your career?
-"No, I did not know exactly what I wanted to do until the end of my senior year. I was decently good at welding and liked it, so that's what I decided. When I got to college I loved it even more."
How many classes were you enrolled in while in college?
-"I only had three classes during college, physiology, math, and a computer class. My day at school consisted of welding from 7a.m – 4p.m in the shop, and a 30 minute lunch break. On Tuesdays and Fridays I went to my education and learning classes."
When you returned from college in 2014, how long did it take for you to find your first welding job?
-"It took me only a month before I found my first job, but I filled out many applications for numerous places immediately when I got back home."
Where are you employed right now?
– "I am working at Schuff Steel Co. located in Ottawa Kansas. It's a metal fabrication shop, we weld I-beams to construct buildings for many different buildings."
How long have you been working there?
-"That is my first welding job that I started right after school, so July of 2014. One year and a few months."
How are Schuff Steel benefits?
-"Welders get pretty good benefits, you just have to find the right employment."
Do you see yourself welding for the rest of your work life?
-"For a part of my life yes, but once you get a higher and better position you won't have to weld metal anymore."