Flowers continuing football career at local Baker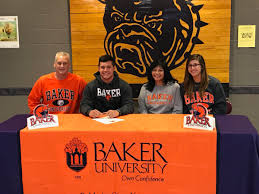 Zach Flowers is a BHS alumnus who graduated last year and is now a student-athlete at Baker University. 
He's been playing football since the 4th grade.
 "I remember that a couple of my friends were playing it before me around 4th grade. I really wanted to try it out after hearing good things from them. Also, my dad was a major influence on me playing."
He chose Baker over all the other colleges that have offered him mainly because he grew up in Baldwin.
"I was always just a little biased towards Baker, since I was constantly watching them play and and becoming a fan more and more," Flowers said.
Bakers' success over the past few years really caught his eye and was also a big factor on why he committed to Baker. 
"They are a very successful program and that's something I wanted to be a part of, knowing that a spot on the team wouldn't be just handed to me," he said.
Once he went on a visit to Baker it definitely helped him confirm his choice. "When I went on my visit and observed the school and atmosphere, I knew then that I was going to end up picking Baker," Flowers said. 
Zach is still determining his major for school.
"I am currently undecided, but I am looking at and taking classes for Education and Recreation right now. I will declare my major by the end of the year," he said.