Hamilton gets an A+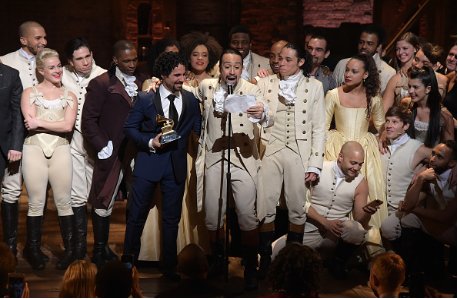 Is Hamilton, the highly acclaimed musical and winner of 11 Tony Awards and the Pulitzer Prize, really as good as expected? The musical tickets can be as expensive as $2,000 get a seat to see the play.  Listening to the recording from the Broadway cast that contains Act I and II, there is a blend of hip-hop, jazz, pop, R&B, and classical music. Each 46 songs were amazing, with impressive vocals, creative lyrics, and an insight in the life of the Founding Father Alexander Hamilton.  Some of the best songs include:
Alexander Hamilton by Leslie Odom Jr., Lin-Manuel Miranda, Daveed Diggs, Phillipa Soo, Anthony Ramos, Christopher Jackson, Okieriete Onaodowan- The opening title sets a lyrical and rhythmic patterns throughout the entire musical. It gives an introduction to Alexander's life in a genius blend of rap and classical music. The catchy verses make this song addictive and show the talent of Lin-Manuel Miranda, the star and writer of the musical.  
The Schuyler Sisters by Phillipa Soo, Renée Elise Goldsberry, Jasmine Cephas Jones, and Leslie Odom Jr.- This upbeat girl-power song introduces the Schuyler sisters, Peggy, Angelica and Eliza. Alexander Hamilton is closely associated with these girls, who are fascinated by the American Revolution. The Schuyler Sisters become important characters throughout the entire musical. Their refreshing feminist spirit brings a liberating vibe to the time period in which this takes place.
Cabinet Battle #1 by Christopher Jackson, Daveed Diggs, Lin-Manuel Miranda, Okieriete Onaodowan- The song is a rap-infused debate between Thomas Jefferson and Hamilton over the idea of having a national bank. This creates an important and irritated relationship between Jefferson and Hamilton that consists all through Act II. The song is truly quite funny and clever, but also provide good educational value. The rap battle will have you cheering and booing along with the rest of the cabinet.
Burn by Phillipa Soo
This emotional ballad sung by Eliza, Alexander's wife, is just about the most perfectly composed breakup song. After the Reynold's Pamphlet is published by Hamilton confessing his romantic affairs with another woman, Eliza rereads the letters he sent her years ago. The amazing vocals combined with the strong lyrics about her love can make just about anybody cry.