BHS Journalists Compete in State Competition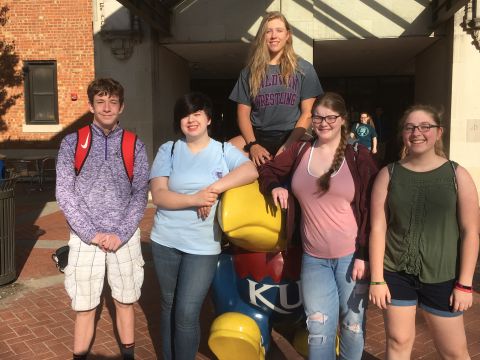 Hang on for a minute...we're trying to find some more stories you might like.
Top journalists at BHS competed at the KSPA state competition at KU on Saturday, May 5.
Students who entered the competition enjoyed it.
"I went this year, and it was a lot of fun. My favorite part about it, was that I got to spend time and learn from all the other journalists there," freshman Zoe Thomas said. "I wrote an editorial for the competition. It was a lot of fun, and I would definitely go next year."
The students who qualified were: Ian McCoy (sports Writing), Betsy Parmley (Editorial Cartoon), Kaela Roberts (Editorial Cartoon,) Kaydawn Bonecutter (New Writing), Codi Thompson (Cutline Writing), Zoe Thomas (Editorial Writing), Riley Fletcher (Advertising), Rachael Fritzsche (Infographics & News Page Design), Colton Long (Photo Illustration) and Rian Gere (Yearbook Layout).
The competition categories varied for each student.
"When I went, I competed in Feature Writing, but I also did some online editing. I made it to state on Honorable Mention for advertising, but I didn't place there," junior Riley Fletcher said.
Long (Photo Illustration) and Parmley (Editorial Cartoon) each received Honorable Mention at the state contest.
"I am proud of all of the students who competed. They had to prepare and study their entry categories and take time out to participate," Journalism Adviser Kit Harris said," Competition was very tough, and it was great to have more Baldwin students qualify and place."