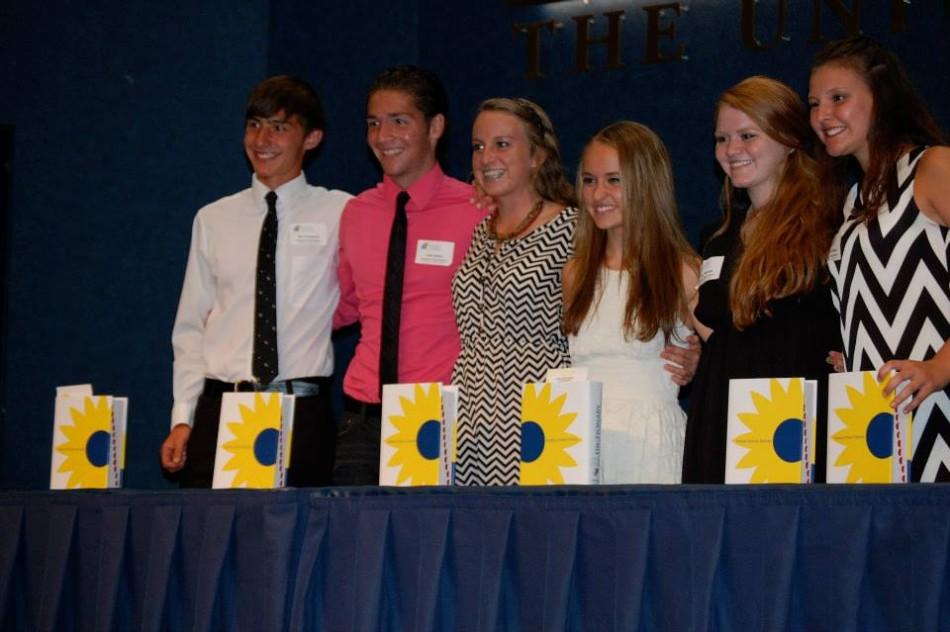 After 12 years of hard work, 12 Baldwin High School seniors were awarded with the Kansas Honor Scholars Award. The 12 seniors were recognized with this award on Wednesday, Oct. 2, 2013 for their outstanding hard work through high school.
The Kansas Honors Scholars Award is awarded to various high school seniors throughout Kansas for their academic achievements.
The requirements for this award are as followed: 4 year English, 4 year Mathematics, 3 year Science, 3 year Social Studies, and 2 year Foreign Language as well as being apart of the top 10% of their class.
The following students have completed these requirements and received the award: Sophia Brich, Ben Growcock, Nick Joslyn, Morgan Linder, Cambry Lynch, Cassidy Markley, Madeline McCrary, Madeline Miley, Anna Nichols, Samantha Robinson, Ashton Temple, and Elizabeth Verhaeghe.
The students were awarded a new 2013 dictionary and the chance at a scholarship.
Markley describes her feelings as she was presented with her dictionary.
"This award meant a lot to me." Markley said. "My mother got this award when she was a student and since I was a little girl, we have used the dictionary she was awarded. When I went up on stage to receive my dictionary, it was a cool moment. I felt like all the hard work I had done through the past three years was appreciated and honored."
Joslyn said that obtaining this achievement required lots of studying outside of class and that it was hard work getting the award.
"This award means a lot to me because grades and academics are important." Joslyn said. "I have taken the most rigorous classes I can, and I have worked hard to get good grades. It has not been easy keeping a 4.0 for it requires a lot of studying outside of class, but it has been worth it. Being an Honors Scholar will help me as I go to college next year because of the good grades and the work ethic I have developed."
Growcock agreed with Joslyn that the award took a lot of hard work.
"Achieving this award was a lot of hard work, but it was always a goal of mine," Growcock said. "It's a good honor because I'm getting recognized for all my hard work."
Growcock plans on attending a four year college for environmental science after completing high school.
Lynch says that this award will help remind her that she worked so hard and that grades will always be important.
"This award will help me by reminding me that I have worked so hard and to always have my grades be my focus," Lynch said. "I've spend a lot of time studying. Taking hard classes but making sure to spend the time to learn things. If you have a certain grade set in your mind to achieve it will happen and that's how I've always made sure to have good grades."
Lynch also wants to attend a four year college at Baker and pursue a career as a NICU nurse.
McCrary says that it is neat that so many students are being recognized outside of school and it's an honor for herself to get such and honor.
"I worked hard throughout high school and always tried to stay focus," McCrary said. "I want to attend a four year college after high school, though I am undecided where at this time."
 Miley said, "It's honored to be selected for the program because it shows my hard work in academics. I'm excited so many people were also selected. Academics are important and so many teachers and students impacted my high school career."
Miley also plans on attending a four year college to pursue a career in entertainment.