Horse riding entitles Wismer, Jackman competition titles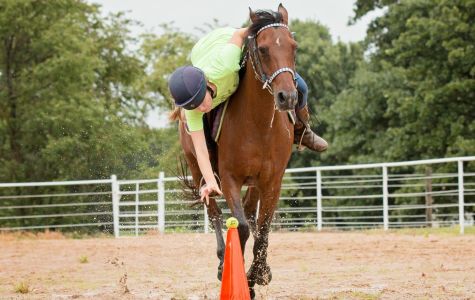 Most kids like to do sports like soccer, tennis, basketball, volleyball or football during their time after school, but some have a passion for riding horses.
BHS senior Riese Wismer has been riding horses ever since she was able to walk. Since 2008, she has been taking part in the Mounted Games and is competing across the country.
"Our team is the 2016 National champions," Wismer said. "I competed internationally in 2014 as part of the International Mounted Games Exchange for team USA."
Wismer was the captain of the first-ever team to compete from the midwest in the Presidents and Prince Philip cup.
"It's very difficult to win," Wismer said. "There are many teams all competing at once and it is very stressful and cut-throat."
Also senior Tanner Jackman competes in KHSRA or Kansas High School Rodeo Association and has also competed in the United Rodeo Association.
"My favorite part is competing all around the state and having life long friends." Jackman said.
Jackman's junior year he won state team roping for the USTRC midwest regional finals and his eighth grade year, he won at the American Royal Team for roping and calf roping.
"If you put in a lot of work and are dedicated, you have a good chance of winning," Jackman said. "Usually, you'll be competing against people who have been doing it their whole lives."
The competition is tough, but both these students can feel the energy building in the arena.
"The hardest part is when you don't place as well as you should or when you have had a bad day because you have to remain calm for both you and your horse," Wismer's said. "My favorite part is galloping across the finish line or waiting at the start."
Jackman and Wismer love riding horses and have fun doing it. It has been an important sport in their lives from an early age and will continue to be part of their lives in the future.